Most women share a love-hate relationship with bras. No matter how much you hate their pokes and stabs, you just can't do without their lift and support. Well, the good part is that, once you get to know what style, size, and type complement your body, it can significantly transform the quality of life. The right bra types can magically enhance the appearance of your outfit whereas the wrong one can spoil your entire look. That's why women should be well versed with the different types of bra styles available in the market and the outfits they go with.
Coming to the parameters of bras, they can be divided into 4 types based on construction – padded, non-padded, wired, and non-wired. Based on coverage, bras are of two types – those with demi cups and those offering full coverage. Talking about the neckline shape, bras can be categorized into a sweetheart neckline, plunge, or balconette style.
Based on the above parameters, let us take a look at the best bra types available at Clovia. Here, we have enlisted 26 types of bras for women that you can find at Clovia. We have also mentioned some styling tips for each bra for the best pairing.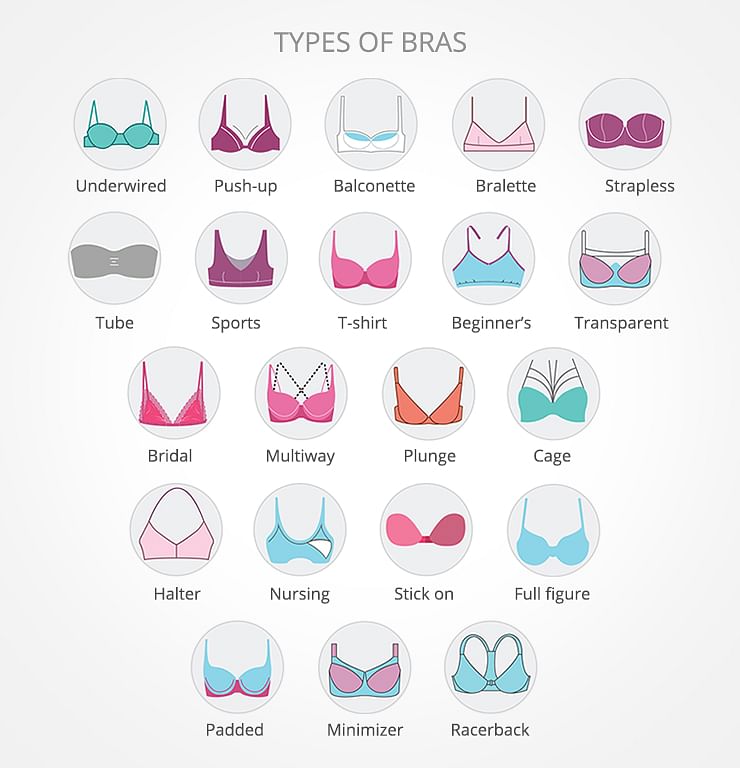 #1 Padded Bras

A padded bra is crafted with padded cups or has pockets to insert pads (also called cookies). This style works best when your main concern is to hide visible nipples. It also adds volume to your breasts and gives them a rounder and fuller shape. Padded bras are available in both underwired & non-wired styles. Underwired padded bras give you a gentle lift while non-padded ones are great for everyday wear.
Style Guide: Padded Bra
Breast Type
All
Occasion
Everyday
Outfit
All
#2 T-shirt Bra

A T-shirt bra is quite similar to a padded bra. It has smooth and seamless cups that don't leave any impression when worn under body-hugging outfits. This style works best with fitted outfits for a clean & smooth silhouette.
Style Guide: T-shirt Bra
Breast Type
All
Occasion
Everyday
Outfit
T-Shirts, Body Hugging Dresses
#3 Push-Up Bra

A push-up bra lifts your breasts and pushes them closer while giving you a very prominent cleavage. Push-up bras usually have underwired cups for a gentle lift. They have angular padding that drastically changes the shape and look of your breasts. Starting from level 1 push up, which is a gentle push to level 3, which is a heavy lift, you can pick the amount of drama you need!
Style Guide: Push-Up Bra
Breast Type
Mostly for Small, Saggy
Occasion
Parties
Outfit
Low cut blouses, Plunge Neck Outfits
Level 1
For small breasts
Level 2
For semi-full or small breasts
Level 3
For full or semi-full breasts
#4 Underwired Bras

As the name suggests, these bras have wired cups, although the cups may or may not be padded. The underwires provide a gentle lift to breasts making them look perkier. This style works best for women who feel they have saggy breasts and need that extra lift.
Style Guide: Underwired Bra
Breast Type
Large
Occasion
All
Outfit
All
#5 Convertible/ Multiway Bra

This style is the master of all bras. With detachable straps, it allows multiway styling including one strap, two straps, cross-shoulder, halter, criss-cross, and even strapless. This one bra solves the purpose of many bras combined.
Style Guide: Convertible/ Multiway Bra
Breast Type
All
Occasion
Every day, Gym
Outfit
Tank Tops, Racerback Dresses
#6 Bralette

Bralette is a bra style that lies somewhere between a bra and a crop top. These easy-to-wear bras are usually non-padded non-wired and have a slip-on style. With less support and construction, this style focuses more on style and comfort factors. They can be styled as fashionable outwear too!
Style Guide: Bralette
Breast Type
Small, Medium
Occasion
Parties
Outfit
Transparent, Backless outfits or like crop tops
#7 Strapless Bras

A strapless bra is pretty much self-explanatory. This style can be worn without the straps. Its main support is offered by underwired cups and an inner silicone lining along the edges that prevent the bra from slipping down. Such styles sometimes have side boning for extra support. They work best under the tube, strapless and off-shoulder outfits.
Style Guide: Strapless Bra
Breast Type
Small
Occasion
Casual outing, Parties
Outfit
Off-shoulder Tops, Tube Tops, Racerback Dresses
#8 Balconette Bra

A balconette bra can be identified by its wide-set straps. The name has been derived from the word 'balcony' that pretty much resembles the neckline that is created by wide set straps. This bra style works best for broad necklines.
Style Guide: Balconette Bra
Breast Type
Small, Medium
Occasion
Weddings, Parties
Outfit
Wide Neck Tops, Sarees, Salwar Suits
#9 Front Open Bra

Front open bras feature a clasp or a hook at the center gore. This can be considered the most convenient bra to wear. This style is popular amongst women who find it difficult or annoying to hook the bra at the back.
Style Guide: Front Open Bra
Breast Type
Heavy breasted women
Solution
Easy to tie front enclosures
#10 Halter Bra

Halter bras have a single strap that either goes around the neck or straps that can be tied at the back of the neck. This style works best under halter dresses and tank tops. Most of the convertible bras give you an option of converting them into a halter style too.
Style Guide: Halter Bra
Breast Type
All
Occasion
Parties, Day Out
Outfit
Tube Tops, Strapless Dresses, Tank Tops, Racerback Dresses, Halter Neck Dresses
#11 Bandeau Bra
Bandeau bras are also called tube bras. These are pretty basic in structure with no wiring, no padding, and no straps. But quite a few tube bras come with inbuilt pockets to insert pads. This bra style works best under tube tops or racerback tops. A great option for times when you don't want your straps to be visible.
Style Guide: Bandeau Bra
Breast Type
Small
Occasion
Parties
Outfit
Off Shoulder Tops, Tube Tops, Deep Neck Dresses, Sheer Tops
#12 Nursing Bra

Nursing bras are a blessing for new mothers. They feature a flap at the cups for easy feeding access. These flaps are usually secured with a clasp that can be unhooked by a single handle making it easy to feed the baby. These are crafted with breathable cotton fabric and are non-padded and non-wired to keep the mother at utmost ease during the time of changing breast shape and size. These are also called Maternity Bras.
Style Guide: Nursing Bra
Ideal time
Pregnancy, Post-pregnancy
Solution
Convenient feeding access
#13 Racerback Bra

Racerback bras are the ones that have a tank top-like back. These work best under outfits that have a similar back style. It serves as a great option for women who often complain about bra straps slipping down the shoulders. A lot of women claim that these bras are very comfortable and feel light on the back.
Style Guide: Racerback Bra
Occasion
Workout, Everyday
Outfit
Tank Tops, Racerback Dresses
#14 Plunge Bra

Plunge bras have demi-coverage cups that cover one-third of the breasts and have a deep neckline all the way to the center gore. They work best under outfits that have a low neckline and ensure no embarrassing bra peeks.
Style Guide: Plunge Bra
Breast Type
Small, Medium
Occasion
Weddings, Parties
Outfit
V Neckline Dresses
#15 Cage Bra

A cage bra is a very sexy style that features multiple straps on the front or back. This style is such that no woman can resist showing off. Cage bras can be styled with trendy & fashionable outfits or can be just worn alone with a jacket. In other words, this bra serves both as innerwear and outerwear.
Style Guide: Cage Bra
Breast Type
All
Occasion
Honeymoon, Parties
Outfit
Sheer Tops, Scoop Back Dresses
#16 Sports Bras

Sports bras are a must-have for any physical exercise. These bras support the breasts and minimize bounce. Depending on the nature of the activity, one can pick from a range of low impact, medium impact, and heavy impact bras.
Style Guide: Sports Bra
Low Impact Workout
Walking, Yoga, Pilates, Strength Training
Medium Impact Workout
Dance, Ski, Zumba, Cycling
Heavy Impact Workout
Gym, Running, Aerobics, Hiking
#17 Stick On Bra

Stick-on bras have no back straps or shoulder straps. They have an adhesive on the inner side of the cups that stick to the body and stays put. These bras work best under backless and strapless outfits. However, they may not work the best with heavy-breasted women.
Style Guide: Stick On Bra
Breast Type
Small
Occasion
Parties
Solution
Avoid bra strap visibility
Outfit
Backless Dresses, Off Shoulder Tops, Tube Tops, Racerback Dresses, Sheer Back Dresses
#18 Transparent Bra

This bra features transparent back straps and shoulder straps. These straps go invisible under backless and strapless clothes and give a clean and smooth look.
Style Guide: Transparent Bra
Breast Type
Large
Occasion
Wedding, Parties
Outfit
Backless Dresses, Tube Tops
#19 Bridal Bras

Bridal bras are the fanciest bra type of all. The premium fabrics like lace and satin add to the bridal charm. The designs are super-sexy and functional to make a perfect addition to your bridal trousseau.
Style Guide: Bridal Bra
Breast Type
All
Occasion
Wedding, Honeymoon
#20 Beginner's Bra

Quite similar to a bandeau bra, this bra has no hooks, pads, or wiring. Beginner's bras have a slip-on style to make it a happy 'first bra' experience for young girls.
Style Guide: Beginner's Bra
Ideal for
Teenagers
Solution
Provides support to growing girls
Outfit
School Uniform, T-Shirt, Dresses
#21 Full-Figure Bras

Full figure bras as the name suggests, have full coverage cups and broader side coverage. Such styles work best with women who have bigger & fuller breasts. These bras prevent spillage and give a much more flattering figure.
Style Guide: Full-Figure Bra
Breast Type
Large
Occasion
Every day as per convenience
Outfit
Dresses, Tops, T-Shirts
#22 Lace Bra

This is probably the sexiest bra style available in the market. It makes the perfect pick for a honeymoon or those special nights. Crafted with exquisite lace fabric, this bra lets you channel your inner diva in full swing. It enhances your appearance graciously to sweep your man off his feet by surprise.
Style Guide: Full-Figure Bra
Breast Type
All
Occasion
Honeymoon, Bridal
Outfit
Babydolls, Nighties
#23 Non-Padded Bras

A non-padded bra is best suited for women with larger breast sizes who don't want any additional volume with the padding. The bulk-free cups enhance the natural shape of your breasts, without making them look out of shape. And since they're double-layered, they don't result in any nipple show either. They provide you with just the right amount of comfort, so you can feel free all day long. They're so light that you'll not even feel like you're wearing a bra. This is why many people consider them a great home option to simply relax and lounge around.
Style Guide: Full-Figure Bra
Breast Type
Large
Occasion
Everyday
Outfit
All
#24 Demi Bras

Like the name states, 'demi' means half, so the demi bra means half bra. The cups are half/ smaller in size in comparison to a full cup bra. The bra covers much less area of breasts while ensuring the nipples are fully concealed. Because of its unique design and shape, it works great under low-cut outfits. However, since the cups aren't full, they don't provide ample support as a full-coverage bra does. It is mostly ideal for smaller breast sizes.
Style Guide: Full-Figure Bra
Breast Type
Small
Occasion
All
Outfit
Low neck
#25 Seamless bra

Body-hugging tops can be tricky because usually, the bra shows underneath. Well, thankfully, a seamless bra is designed to help you with just that. It is ultra-smooth and is specifically crafted to provide you with a seamless silhouette underneath your clothes, even under the tightest ones. The cups are beautifully molded to enhance your curves while giving them a fit and firm look.
Style Guide: Full-Figure Bra
Breast Type
All
Occasion
Office, Parties
Outfit
Body-hugging
#26 Wireless bras

As obvious from the name, these bras are devoid of straps. So, if you'd always been irritated by the poking of underwires, this one's for you. This bra is utterly comfortable and sits perfectly under your busts. And if you think they're not supportive, you're highly mistaken. These bras have sturdy under bands to provide your breasts with the necessary support and lift, especially to the ones with smaller to mid-sized breasts.
Style Guide: Full-Figure Bra
Breast Type
Mostly small, mid-sized
Occasion
Everyday
Outfit
All
Source: Clovia